We get pretty much the same reaction from everyone who comes into our showroom for the first time.
People either say "WOW, I didn't realise you could do so much stuff" or "WOW, I didn't even know you could print on that" or we've even had a few saying "WOW, I didn't know that Chris actually did some work during the day (ok, that's just when my relations call in).
It is interesting though to see what grabs people's attention and even just to chat about how they would use promotional products to amaze their customers. There are so many ways that people use the products from giveaways to incentives and rewards.
This is why I have decided to compile a list of 5 pretty cool promotional items that you might not have thought that we do at The Brand Geeks so here goes:
1. Condom Matchbooks
You probably weren't expecting me to start there but sure you have to start somewhere.
Promotional condom matchbooks may have a fairly limited audience but they can be a really effective marketing tool and for a specific audience it can really make an impact. For example, these have been a great item to give out at festivals and at different events like rag week at colleges.
With any promotional product, it's about giving your potential customer something that they want and something that they are likely to hold on to. We have seen some excellent campaigns using these like a bank using these when targeting new students and their campaign was "Students Come First" , very clever use of this product.
You can see the full range of promotional condoms here bit.ly/PromoCondoms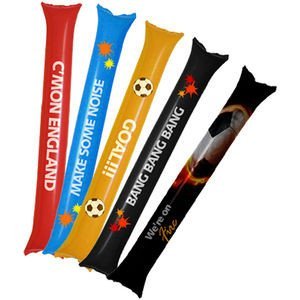 2. Bang Bang Sticks
Now this product has nothing to do with branded condoms so get your minds out of the gutter people !
Bang bang sticks are a fantastic promotional product for crowds at sporting events and matches. I remember going to an Irish rugby match when I was about younger and saw the All Blacks play for the first time. I got a pair of Guinness bang bang sticks that day and as it was an amazing day for me and I had an emotional tie with the day and the event itself that I kept the bang bang sticks for a considerable amount of time after.
By tying promotional products in with a bigger event, you will have created a great bond between those events and your customers or potential customers.
Have a look here to see our range of bang bang sticks bit.ly/BangBangBar
3. Sunglasses
From The Brand Geeks perspective we use red glasses as a representation of our brand identity all the time and we get great feedback on how we use those. Sunglasses are another way that can give a great feeling of holiday, relaxation or just general coolness for your company or brand.
Promotional sunglasses are the type of promo item that will be worn again and again. They are a perfect item for trade shows, product launches, corporate events, charity events sports events and of course concert/festival merchandising. As with any of the promotional products, it is down to the way you use them and introduce them into your campaign that will make the difference.
Check out these shades bit.ly/PromoShades
4. Teabag Envelope
There is a little bit of Mrs. Doyle in all of us and sometimes there is little better than a cup of brew to help make the best of any situation. We love this promotional product because it can really help make an impact with your audience. The teabag envelopes are digitally printed so you can create any style on the packaging with some great graphic design. Again, this is a great way to connect and make an impression on someone if used in the right way.
Hotels have teabags in every room and this is a great way to create a bespoke message to their guests and to create something with their corporate brand. By putting a novel message on the packaging instead of just a logo, you can really connect with the customer.
 Go on, go on, go on…. bit.ly/PromoTeabag
5. Printed Deckchair
Between the sunglasses and the deckchairs, I think that my subconscious is telling me I need a holiday while I am writing this blog but even so, these deck chairs make for an awesome branding opportunity. With such a big print area and the ability to print in full colour, the options are endless to a creative marketeer. You don't have to be in the holiday industry to use an item like this as it can give the feeling of relaxation and taking a moment to oneself.
Personally, I would love to have one in the office but in reality, I think that would be asking for trouble 😉
The fact that they have a MOQ (Minimum Order Quantity) of just 1 means that any company can put these into their marketing budget. It would be a real eye catcher at a trade show or execution. I guess the real question here is, what colour is yours going to be in?
Relax, you can find them here… bit.ly/PromoDeckChair
And there you have it… …just a sample of some of the promotional products that not everybody knows are available from The Brand Geeks.
I really hadn't imagined writing a blog today that mentions Mrs Doyle, condoms and bang bang sticks all in the one piece but like a good promo product, that's what will make it distinct.
Spoilt for choice? We can help!
One of the things I notice though is that people generally find it really difficult to pick a product out of a catalogue of thousands of products and that is where we can help. If you have an upcoming exhibition or conference and you have a particular audience that you want to impress, why not give us a call and let us suggest some items for you.
We are always careful to stay within budgets and pick products that we feel your customers will love and will represent your brand properly.