With February being a time to show extra love and appreciation to your other half, why not take the opportunity to show a little more thought to the other half of your life; your BRAND?
We've put together a list of 5 top tips in which you can create a better online (and offline) brand in 2017.
Let's go through some areas of your online branding you may haven't thought to update for a while. Importantly all are with the aim of increasing your brand awareness and helping you stand out from the crowd online. Love your brand, love your success….
Love your Website
Take some time to look through your website and check that it is making your brand look it's very best.
Here is a handy checklist to complete…
Post a piece of news your customers will find useful
Check all contact details are up to date and e-mail/form links are working
Have a Facebook or other social feed installed
Test website for mobile users – mobiletest.me is a good free tester
Search some key words/phrases for your business – How are you doing in organic searches?
Love your E-Marketing
Adding a newsletter sign-up to your website is a great way to connect with potential customers, we recommend MailChimp which is free for up to 2,000 subscribers. You can use MailChimp to easily embed a form or pop-up to encourage customers to sign up.
If you already have a newsletter publishing facility, don't miss out on your customers. Let them know what's coming up for Spring/Summer 2017.
Help your customers be prepared, by being prepared. Take advantage of any January lull by having newsletters prepared in advance and setting up your campaigns now. Bring ready for March, now, will go a long way when business picks up and you don't have time.
Love your Social Media
If you have social profiles and pages, here is a chance to make it look luvely in preparation. Here are a few ways to do that….
Valentine's Checklist
Add a tasteful valentine's theme profile image and/or cover photo.
If you are B2B, why not think about a campaign which targets their businesses customer needs?
Marketing towards Valentine's customers such as a special dinner menu, an event etc. should be posted in mid January.
A valentine's theme giveaway of competition is a good way to put out brand awareness and get more social engagement, and it doesn't always have to be something expensive, e.g a gift voucher.
Get Your FREE Social Media Checklist
Love your Customers
Give your customers a little something this Valentine's to say thank you and also add a little sparkle of brand loyalty to the mix.
Gift Ideas
A free download on your website would not only put your brand in their saved folder, but encourage engagement with your products and services.
Small promo memento to remind your customers such as a keyring, pen or Valentine's themed gift.
A pack of branded wrapped sweets is often a favourite, perfect for all types of business from restaurants to corporate environments.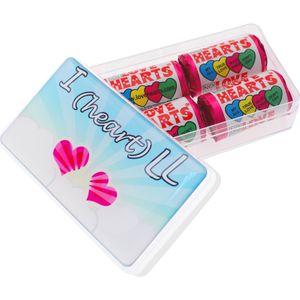 View Valentine's range
Love your Data
Areas you can get great data to help you target the right potential buyers
Install Google Analytics to track how customers are using our website
With Facebook Pixel, track how successful your adverts are by seeing the direct results
Send a short survey to your customers to find out what their experience was like working with you
Take a look at your competitors, are you keeping up?
Stay in the know!
If you are a business owner, you'll know that it takes hard work to make a brand successful. That's why we'll be posting regular useful and practical tips to keep your brand in tip top shape.
Find us on Social Media for our latest posts, tips and news.